Physical, Political, Environmental and Social Geography of Ireland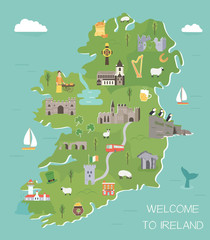 Course Overview
To inform teachers about the location and significance of mountains, rivers, lakes, headlands, seas, islands and bays of Ireland as well as the Provinces, Counties, Towns and Cities of Ireland.
To provide teachers with information and resources that they can use in their own classrooms which they can use in their own classroom to learn more about the Irish physical environment as well as the role of the Irish landscape in the tourist industry.
To bring teachers on a literary and musical tour of Ireland and provide them with an understanding of the connection between artists and the places that inspired them
Learning outcomes
To understand the importance of Geography in the development of literacy.
To know a number of pertinent facts about the physical geography of Ireland.
To understand the connection between rivers, mountains and lakes and their influence on the landscape.
To study the headlands, bays, seas, islands of Ireland.
To know the provinces, counties, cities and towns of Ireland and what their names mean.
To understand why these settlements began in those specific locations and what is their economic status.
To focus on a sense of place. Highlighting distinctive features of the different counties in Ireland.
Art Ó Súilleabháin
Art Ó Súilleabháin practised as a primary school teacher, first in St. Pat's School in Drumcondra and then as Principal of Burriscarra NS in Mayo.
He then went on to become the ICT Advisor for Mayo before becoming Director of Mayo Education Centre. He learned his Irish from the age of eight when he moved to Corr na Móna, having been brought up in Boston (USA).
He went on to publish a number of books in Irish for children before being co-author on a series of grammar books for children (published by in 2019). He taught Irish in the CUA, a university in Washington DC as part of the Fulbright programme in 2018/19. He now lives in the Gaeltacht, in Corr na Móna, Co. na Gaillimhe.
Course Access & Certification
This course runs from Monday 4th July - Friday 19th August.
Registration is now open and the last date for registration is Wednesday 17th August.
Access to the course closes at 5pm on 19th August for all participants.
Certification
This course is approved for E.P.V. certification by the Department of Education
By registering for this course you are agreeing to Mayo Education Centre's Site Policy for use of this website, available to view at the bottom of your screen.